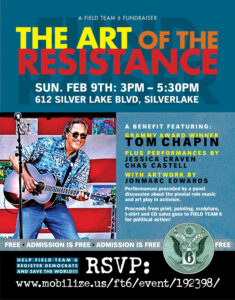 THE ART OF RESISTANCE
An afternoon of music, art and activism in support of FIELD TEAM 6
 Performances by Tom Chapin, Jessica Craven, Chas Castell.  Artwork by JonMarc Edwards
Panel Discussion about the relationship between art and resistance.
Sunday, February 9, 2020    3pm – 5:30pm
 MARKET Studio
612 Silver Lake Blvd.
Los Angeles, CA 90026
213-706-9005
https://www.mobilize.us/ft6/event/192398/
Folk music, immersive art installations, and a chance to save the world!
A benefit for the Grassroots Voter Registration powerhouse Field Team 6,  the Art of the Resistance is an afternoon of music and art preceded by a panel discussion about the pivotal role the arts play in activism.  Performances by three-time Grammy winner and activist Tom Chapin, musician and community organizer Jessica Craven, and singer, songwriter and digital strategist Chas Castell.  Artwork by conceptual artist JonMarc Edwards, whose recent immersive installations explore the power of language and truth in a world filled with angry tweets and alternative facts.
All proceeds from the sale of prints, paintings, sculptures, t-shirts, and CDs during this event will go to the highly targeted, partisan voter registration efforts of  Field Team 6, a nonprofit with a simple mission: Register Democrats. Save the World
Tom Chapin's career has spanned six decades, 26 albums and three GRAMMY awards. Tom began performing professionally as a teenager in the early 1960s, playing in Greenwich Village folk clubs alongside his siblings Harry and Steve as The Chapin Brothers. In 1971, he began a five-year run as the host of the Emmy- and Peabody award-winning ABC-TV children's series "Make A Wish." Chapin and his songs were also featured in the seminal documentary film "Blue Water, White Death," for which he spent six months sailing the Indian Ocean searching for great white sharks. Chapin launched his solo recording career with "Life Is Like That. It was the first of a string of albums that further established his reputation as both a gifted storyteller and a natural entertainer, winning him an uncommonly loyal fan base in the process. He also ventured into other creative areas, playing the lead role in the hit Broadway musical "Pump Boys and Dinettes," working off-Broadway as musical director of both Cotton Patch Gospel and Harry Chapin: Lies and Legends, and serving as host of TV's National Geographic Explorer. He's also written and performed satirical topical songs for National Public Radio's Morning Edition and had a cameo role as the Vice-Presidential candidate in Jonathan Demme's 2004 remake of "The Manchurian Candidate."
Chapin has also been a powerful advocate on behalf of a variety of charitable causes. He is a board member of Why Hunger, the organization the artist's older brother, the late singer-songwriter/activist Harry Chapin, founded (as World Hunger Year) in the 1970s. He also remains active in a variety of environmental causes, as well as efforts on behalf of music and the arts in our public schools.
Jessica Craven is an activist and community organizer living in Los Angeles. She's also an elected delegate to the CA Democratic party, co-legislative lead for her chapter of Moms Demand Action for Gun Sense, an environmentalist and climate activist, and the author of Chop Wood, Carry Water, a daily actions email and Facebook page that encourage regular Americans to participate in their democracy. Jessica is also a lifelong musician and former member of the band the Chapin Sisters. She still occasionally performs with her sisters and/or her stepfather, Tom Chapin, and comes from a long line of folk-singers-cum-activists.
Chas Castell is a larger than life (i.e., 7-foot-tall) musician, songwriter, educator, father of 21,345 children, and digital strategy expert, originally from England. He has written and recorded albums and EPs as a solo artist, with his duo Mellott, and with his brother as The Castell Brothers. After the 2016 election he turned his 15 years of digital and entrepreneurial experience to helping the Resistance, and consulted for a number of candidates, including Congressman Adam Schiff during the 2018 midterms. He currently runs his own company, fusing digital strategy, art and activism, and writes and performs songs to promote love and tolerance. He is passionate about changing culture across the world, so the forces of darkness can never come back.  Castell is managed by multi-Grammy winning producer Bob Cutarella.
​​JonMarc Edwards is a Los Angeles-based conceptual artist and painter. He is best known for his language-based work that transforms composed writings into concise, legible pictographic paintings, sculptures and prints.  Edwards has received numerous grants, awards and commissions including the Louis Comfort Tiffany Foundation in New York City, the Jerome Foundation in St. Paul, MN and the Neiman-Marcus Memorial Commission in Dallas, Texas. His work has been exhibited in the United States and abroad at galleries that include Coagula and NewSpace in Los Angeles, Art Affairs Gallery, Amsterdam, Netherlands and Apex Art, New York City. Edwards has also created costumes and sets for performances such as "Looming Bias" and "Bias 2, Intelligent Living" performed at Art Center, Pasadena, CA. "Space 1 & 2" and "Weeping Time" at CalPoly Pomona University.
Edwards' artwork has been tackling and commenting on political issues since the 1980s when he took on Reaganomics, the materialism of the decade and apartheid.  Most recently, his immersive installations "The Debriti Show!" and "Flutter" have captured the chaos and cacophony of our times while arguing for the power of community, connection and truth.
Field Team 6 was founded in 2018 and registered over 6000 Democratic voters across five swing districts- and helped flip all five in 2018.  Since then, Field Team 6 has gone national with voter drives in key swing states including Arizona, Maine, Pennsylvania, Michigan, North Carolina, Texas, Georgia and Florida, as well as continuing to register Democrats in critical Southern California congressional districts.