Featured Image: It Had To Be You!
35" x 27" canvas, mixed media 2010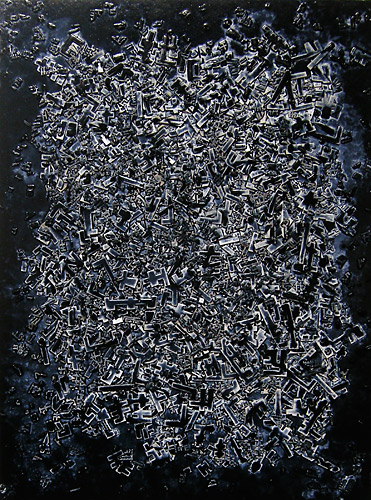 Duchamp's Dilemma
24" x 18" panel, mixed media 2010
These 2010 paintings will be in a Group Show at the new Art Affairs LA Downtown on Oct. 20 & 21 in conjunction with the Brewery Art Walk. More information about the event can be found on the following link, http://www.artaffairs.net/?Tnext=exhib&click=1349995455M
It Had To Be You! and Duchamp's Dilemma are part of a larger series of works I informally refer to as the Self-Construct paintings. Arranging three-dimensional collage compositions on canvas panels using discarded or unused materials (cardboard, Plexiglas pieces and string) I applied dry pigments and paint mediums to play (articulate, enhance) into the intricacies and architecture of the 3D plane. This series reveals my intense relationship with color, how it complements, exudes and intensifies the experience of seeing the world of ideas that has been striped down to its essentials.
***
It Had To Be You! is composed of broken and recycled YOU forms from a raw supply of MERGE jewelry. These Plexiglas pieces were further broken, crushed or sprinkled onto the canvas over the course of several weeks and coated with an acrylic medium to embed the 3D pieces securely onto the surface. I then apply the surface with dry pigments and paint washes to create a conflict and instability of the color blending (adherence) process. (notice the glossy and matte blacks as they repel the orange and crimson). As this process of layering paint progressed it became apparent that It Had To Be You! was becoming a painting about patience, awareness and compatibility. With the obvious nod of the painting's title to the classic torch song from the 1920's this piece was also inspired by past "You" paintings that were created in a flat mechanical style, influenced by sign painting and more cerebral in nature and intent. This piece makes a break from the more graphic drawings and paintings and conjures up for me the feeling of romance, discovery and the excitement of YOU being here, now.
***
Duchamp's Dilemma was influenced by the old anecdote that Duchamp's painting of 1913; Nude Descending The Staircase #2 looked like an "explosion in a shingle factory." Many of the preparatory works on paper and board I did as studies for this painting show faux and cartoony figures and facades blowing up from a concentric center "spot" or using the dynamic diagonal of the Duchamp masterpiece. Once I was committed to using recycled material that characterized the Self-Construct series I subdued the color pallet for this piece and concentrated on black and white with a dash of magenta dry pigment. As the paint reacted and dried the color separated creating the seductive pinks around the parameter of the composition. The title refers to Duchamp's fascination with Chess (black and white) and it's role with visual pleasure and the erotic. The dilemma would be the choices we make for our art or pleasure that at times paint us in the proverbial corner of a difficult situation.